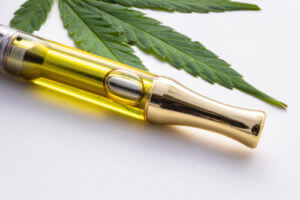 Stretch marks are something that many of us have and it is a natural response to the varying physiology of our skin layers. People from all genders can have stretch marks, but pregnancy and puberty are two common times when these marks can develop. Genetics also has a significant role to play in their progression.
If you have stretch marks, you might wish to have medicine to make these marks disappear. Even though these grooves and lines are not harmful to the health of a person, these marks can hinder the beauty of a person. Unfortunately, there is no magical ointment to cure these marks. Nonetheless, you need not be disappointed as there are topical products and skincare practices that can fade your stretch marks over time. Recently, many people have been discussing the benefits of using CBD for stretch marks.
Many studies show that CBD has antioxidant effects on the skin. Due to this, many people believe that CBD can make stretch marks fade away. Is there any truth in these claims? Read on to know.
CBD Benefits For Skin 
Many studies are showing the benefits of using CBD for skin problems. A study conducted to find the CBD benefits for skin found that it has a vital role to play in skin regeneration, barrier formation, and homeostasis. Another study claims that topical application of CBD is effective and safe in improving many skin disorders. However, there are no specific researches on the effectiveness of using CBD for stretch marks, as of now. Based on the results of many studies, we can assume that using a quality topical cannabidiol product can improve the skin appearance in areas that are affected by stretch marks.
Using CBD For Stretch Marks 
An important property of CBD that can help treat stretch marks is its ability to increase collagen production. Collagen fibers can make the skin healthy and thick which can reduce the chance of cellulite. Besides, collagen can increase the elasticity of the skin, thereby helping to reduce stretch marks. CBD also possesses antioxidant, antibacterial, and anti-inflammatory traits that can help enhance skin health. This means that CBD can have a positive impact on scarring which can lead to stretch marks.
As CBD is a natural antioxidant, it can promote skin healing and protect it from further damage. Even though CBD cannot fully reduce or remove stretch marks, it can be effectively used to reduce the appearance of these marks and can help fade away the marks.