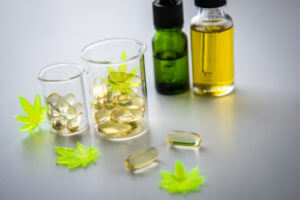 Because of the wide variety of CBD products in the market, it became very easy and convenient for you to consume this compound for getting the wide array of benefits provided by it. CBD manufacturers are always trying to introduce new products that can make the consumption of CBD convenient for users. Different CBD products carry different properties. For example, CBD vape products provide fast and intense results, whereas, edibles offer slow but long-lasting effects.
If you want the effects of your CBD products to last longer, then it is better to choose CBD edibles. You can find a wide variety of edibles like gummies, candies, lollipops, chocolates, brownies, and cakes, etc. that are infused with cannabidiol. Another CBD edible that is now becoming popular in the CBD industry is CBD mints. This can be the perfect solution for those who want slow and long-lasting effects from CBD.
Benefits Of CBD Mints
CBD mints are made by blending hard-mint candy ingredients and hemp extract. Along with freshening your breath, CBD mints can deliver a wide range of benefits provided by cannabidiol. As they are just like any other mints you use, it can be very easy for you to take them. CBD mints are chosen by people over traditional CBD oil because of the convenient taste they have. CBD oil naturally has a grassy taste that a lot of people find difficult to bear. Also, CBD oil can leave a bad aftertaste in your mouth, and it might be present in your breath.
Nonetheless, these problems can be avoided with the help of CBD mints, as they taste great and help to freshen your breath. Hence, this is one of the best CBD products to get if you don't want to endure the strong taste of CBD oil. Choosing CBD mints over various other CBD products guarantees numerous health benefits. Some of them are listed below:
Provide Long-Lasting Effects: Just like any other CBD edibles, CBD mints can also provide you long-lasting effects.
Pre-Measured Doses: You can avoid the guesswork associated with measuring the dosage, as each CBD mint carries a specific dosage.
Great Taste: The peppermint flavor can easily mask the earthy taste of your traditional CBD oil thereby making consumption easier.
Safer Than Smoking: CBD mints create a safer option when compared to smoking CBD. It won't be harsh for your lungs and the chance for adverse reactions are less.
So CBD mints create a great alternative for many other CBD products.