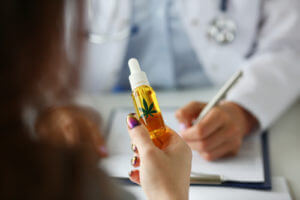 CBD products that are available for the common consumer are quite endless. The successful legalization and passing of the much-awaited Farm Bill, in 2018, paved the way for hemp CBD suppliers and manufacturers to set shop and begin selling CBD products to the markets. What made CBD a hit apart from the obvious CBD health benefits that it offers, is the flexibility. CBD can be infused in a variety of products in a variety of ways-right from CBD tea and matcha to CBD pain sprays and pills.
You will have a CBD product that you can enjoy, in a form that you can enjoy too! CBD edibles and gummy bears will be hit amongst the children who are averse to the idea of swallowing a CBD pill or drinking CBD tea. Seniors who had to make peace with excruciating pain from arthritis can now vape CBD for faster effects, and rub CBD lotions at the joints.
We are not here to tell of all the ways in which you can take CBD; we are here to turn the spotlight to CBD topicals.
What Are CBD Topicals?
The non-psychoactive and therapeutic substance extracted from the hemp plant can be morphed into various forms. CBD topicals are just one of them and are a great remedy for many ailments. These are those products that you needn't ingest but instead, apply directly onto the skin.
CBD topicals are available in the following forms-Lotions, balms, salves, creams, gels, and ointments.
The CBD interacts with the numerous nerve receptors that are present in the layers of the epidermis. The CBD in such applications does not make its way to the bloodstream but is limited to the nerve bundles on the skin. What makes this effective is that these nerves are linked to the body's endocannabinoid system (ECS)- the system that regulates hormones, moods, appetite, sleep, and whole other functions.
Here Is What You Can Use CBD Topicals For
For Pain Relief
CBD is a potent anti-inflammatory substance, that when directly applied to the skin will help in relieving sore muscles and inflamed joints. People who are facing chronic pain as a result of arthritis and lupus can finally heave a sigh of relief with CBD topicals.
Sports Injuries
Unlike opioids, CBD is not addictive and has close to nil side effects. These enhance the recovery speed and also helps reduce the inflammation in the joints.
Cosmetological
There are plenty of applications of CBD in cosmetology. It does well with regulating oil production and rejuvenating damaged skin to ensure lasting youthfulness and glow.